Sneaky Dee's is part Tex-Mex restaurant and part live music venue. It is located at 431 College Street West in Toronto, sitting right on the south east corner of College and Bathurst. The bar first opened in 1987 on Bloor Street, but relocated to its current address shortly after, in 1990. Not only is Sneaky Dee's arguably the best place in town for nachos, it is also arguably one of the hottest hangouts for independent music scenesters. A quote on the Sneaky Dee's (2011a) website from the National Post (n.d.) reads "This is the type of place where you think to yourself, all these people are a) in a band or b) want to be in a band or c) think they're already in a band".  
History 
"Sneaky Dee's started as a family business in 1987" (Sneaky Dee's, 2011b), opening its doors for the first time at 562 Bloor Street West. In 1990, Sneaky Dee's moved a few blocks south to its current location at 431 College Street West. A classified ad published in the National Post in 1949 notes that a restaurant called the Daisy Tea Room was once located at this address. We can therefore assume that consumption of food and drink has occurred in this building for quite some time; however, it is not clear whether or not music played any role in the space before Sneaky Dee's moved in. 
"Sneaky Dee's has hosted local and touring musicians since it began (sort of serendipitously) in the basement of the restaurant's first location" (Sneaky Dee's, 2011b). Despite projecting a punkish rock persona, the bar has hosted acts of all genres. It is probably more appropriate to brand Sneaky Dee's more generally as an indie music venue. Damian Abraham of the Toronto band Fucked Up, who also hosts The Wedge on Much Music, argues that the venue has played a prominent role in fostering the indie music scene in Toronto, allowing "young and experimental bands" a space to play (Abraham, 2011).
Although I was unable to find any details as to why, I think it is important to note that Sneaky Dee's dropped out of the live music scene in the late 90's, starting up again as a live music venue in the early 2000's (Soundscapes, 2012). Prior to this, the stage was played upon by bands like indie pop rockers Zumpano (Toronto Star, 1995), electro act Monkey Trial (Toronto Star, 1994) and acoustic folk trio Leaping Lizards (Toronto Star, 1992). Since reopening, the stage has been played upon by bands like Broken Social Scene, Feist and The Arcade Fire, to name a few notable acts (Sneaky Dee's, 2011b).      
Festivals
As I searched through old newspaper event listings, I found that for many years Sneaky Dee's has contributed its stage to various Toronto based music festivals. One Toronto Star article from 1989 lists Sneaky Dee's as a main stage venue for the first Fringe of Toronto Theatre Festival. A Globe and Mail article from 2003 links Sneaky Dee's with Canadian Music Week, listing Les Marmottes Aplaties, Grasshopper Sound Clash, Mean Red Spiders and the Barcelona Pavillion as must see acts. Another Globe and Mail (2008) article names Sneaky Dee's as one venue among eight others participating in the Over the Top Festival.
Theme Nights
This venue currently hosts what I would consider to be four theme nights. Monday nights are karaoke; Tuesday nights are Watch Out!, a celebration of rock music, sometimes recorded and sometimes live; What's Poppin' is a mid-week party sound-tracked by high school anthems happening on Wednesdays; and on Saturdays, a 60's pop and soul dance party happens (Sneaky Dee's, 2011c).
Looking back at some old event listings, it seems as though Sneaky Dee's has hosted various series and weekly events over the years, some of which have come from or moved to other venues throughout the city over time. For example, a Toronto Star article from 2010 chronicles the life of the Wavelength series. The article notes that in its ten years of being, this weekly indie music showcase moved from Ted's Wrecking Yard to Lee's Palace to Sneaky Dee's to The Garrison. It is also noted on the Sneaky Dee's website (2011c) that Shake a Tail was a mainstay of the White Orchid on Dundas West before moving to Sneaky Dee's.  
In hosting these various festivals and theme nights, Sneaky Dee's arguably plays a significant role in sustaining the larger Toronto music scene. Straw (2006) argues that "a musical scene is a cultural space in which a range of musical practices coexist, interacting with each other within a variety of processes of differentiation, and according to widely varying trajectories of change and cross-fertilization" (373). Based on this definition we can mark Toronto as a scene, venues like Sneaky Dee's as cultural institutions where musical practices take place and the festivals and theme nights as the means by which differentiation and cross-fertilization can occur.     
Site Analysis
Location and Layout
Sneaky Dee's is located at the intersection of two high traffic streets in Toronto, College and Bathurst. 24 hour public transit is offered on both of these streets which makes travelling to and from the bar possible at all hours of the day. This is important considering the bar remains open until 4am some nights. Sneak's is also located just a few blocks south of the Annex neighbourhood. The Annex is home to many students attending the University of Toronto. Because the bar's target market seems to be young adults, its proximity to a neighbourhood of students makes a lot of sense. When asked about its location, Interviewee A said that "while I think in the past it was a little off the beaten path, as the music scene's moved West, Sneaky Dee's, once on the periphery, is now one of the more centrally located venues".
Sneaky Dee's resides in a two story building. Upon passing through the front doors one can either go up a flight of stairs to the music venue part of the building or walk straight ahead into the restaurant. The restaurant is set up with the kitchen at the very back, booth seating throughout and a rather large bar that runs along the west wall. The public also has access to the basement level, where the bathrooms are located. The upper level is arranged with a fairly low set stage to the front, washrooms to the back and a large bar along the west wall, just like on the main floor. The sound booth sits at the end of the bar closest to the stage. The capacity for the venue is listed as 200 plus (Sneaky Dees, 2011b).    
In my observation, music exists in two different forms throughout the building. On the upper level, music exists in the foreground and in the restaurant, the music is employed more so as background sound. For the most part, the sounds of the two spaces are kept separate via the floor; however, sometimes, sounds from the upper level leak through the barrier.
Sterne (1997) argues that in semi-public spaces "music becomes a form of architecture" (23). What he means by this is that music, much like other structural elements, influences the ways one functions in a space. In the case of Sneaky Dee's, we can see that the use of music works to structure one kind of space upstairs, and another down stairs. Because the upstairs is intended to be a party space, the venue foregrounds music via DJs and live bands. People engage more actively with focal sounds and act in accordance with the music by singing, dancing and moshing. In the restaurant, music is played in the background as a means of creating an ambiance. Because eating and drinking are the primary activities on the main level, people are encouraged to engage with the music in a more passive manner.
Décor and Ambiance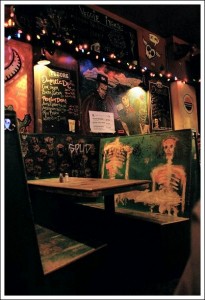 http://johnnyscreepshow.blogspot.ca/2010/05/if-your-baby-likes-sushi-youre-asshole.html
Some notable aspects of the restaurant's décor are the graffiti dressed walls, tables, and booth seats, the dim lighting, both upstairs and downstairs, and the loud music. I would consider these to be the signifiers of this space. In talking about subcultures, Hebdige (1991) quotes Hall (1976) as saying that "symbolic objects- dress, appearance, language, ritual occasions, styles of interaction, music- were made to form a unity" (114). I am arguing that the symbolic objects of Sneaky Dee's work to unify as well. The bar's features communicate its character and ideals. Those with similar values will likely find it homey while those with alternative values will likely find themselves uncomfortable in the space. Interviewee A notes that the student haunt/ dive bar vibe appeals to a punk and rock'n'roll kind of crowd, which is precisely the kind of crowd that fills the place. And the fact that a type of crowed can be identified suggests that there is some form of unifying force present within the space.   
On a similar note, Sneaky Dee's seems to be using music to an opposite effect of the Manilow Method, which Akiyama (2010) describes as employment of sounds to "chase away young people" (457). Rather than use music as a deterrent, Sneaky Dee's uses music to encourage young people to come in and stay a while. Akiyama (2010) paraphrases Danesi (2003) saying "certain musical styles and trends have been associated with young people at least since the swing era" (465) rock being one of them. This adds another reason to why the place plays rock music and not classical. And while this style of music is being used to appeal to a younger crowd, I wouldn't say that it is being used to deter anybody, although it may have that affect in some cases.            
Bibliography
Abraham, D. (2011). Damian's blog: How Sneaky Dee's revitalized Toronto music. Retrieved from http://blog.muchmusic.com/damians-blog-how-sneaky-dees-revitalized-toronto-music/
Akiyama, M. (2010). Silent alarm: The mosquito youth deterrent and the politics of frequency. Canadian Journal of Communication, 35(2010), 455-471.
Green, R. E. (2003). Canadian music week: Standing behind the little guy. The Globe and Mail, Feb 26, R3.
Hebdige, D. (1991). Subculture: The meaning of style. New York: Routledge.
N.A. (1995). Concerts. The Toronto Star, April 27, G8.
N.A. (1949). Classified ad 1: No title. The Globe and Mail, August 10, 19.
N.A. (1989). Fringe pushes Toronto to edge of theatre. The Toronto Star, July 21, E8.
N.A. (2010). Wavelength 500: Looking for the next wave. The Toronto Star, February 11, E3.
N.A. (2008). Going out: Things to do and people to see in T.O. this week. The Globe and Mail, April 26, M6.
Sneaky Dee's. (2011a). Sneaks in the media. Retrieved from http://sneaky-dees.com/sneaks-in-the-media/
Sneaky Dee's. (2011b). Our story. Retrieved from http://sneaky-dees.com/our-story/.
Sneaky Dee's. (2011c). Concert listings. Retrieved from http://sneaky-dees.com/concert-listings/
Soundscapes. (2012). Local live venues. Retrieved from http://www.soundscapesmusic.com/local-live-venues/
Sterne, J. (1997). Sounds like the mall of America: Programmed music and the architectonics of commercial space. Ethnomusicology, 41(1), 22-50.
Straw, W. (1991). Systems of articulation, logics of change: Communities and scenes on popular music. Cultural Studies, 5(3), 368-388.
Cover photo: http://www.blogto.com/bars/sneakydees