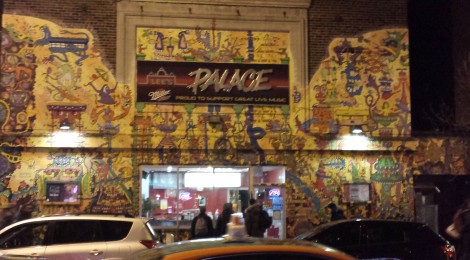 Site Analysis
Location: Lee's Palace & The Dance Cave
529 Bloor Street West, Toronto, ON, Canada M5S 1Y4 ‎
Closest intersection: Bloor Street West & Bathurst
Closest subway station: Bathurst
Description:
Lee's Theatre now as seen from the outside. Photo by: Alex Hum.
Lee's Palace: The room is large, though not grand like a movie theatre or an auditorium. Their website says that each floor is 5,000 square feet in area (Lee's Palace: History). The high 17-foot ceilings and little furnishing add to the sense of spaciousness. There are tables and chairs and couches that line the two walls along the sides of the interior, plus another few rows of bar-like counter-tables, each being long and narrow and only allowing patrons to sit side-by-side, with similar high bar chairs that create a small square perimeter in the centre of the room. I counted total seating for about 60 people, though the space suggests a possible maximum capacity upwards for several hundred. These long tables surround a small dance-floor-like pit which is made of a varnished wood, unlike the rest of the venue which I believe is floored with linoleum and marmoleum.
This pit is immediately in front of the proscenium arch stage which is elevated five feet high. All the furniture faces the stage at the front of the room (ie. against the furthest back wall upon entering the venue). The stage is a big performance space. According to their club specifications provided online, it is 24-feet deep and 22-feet wide (Lee's Palace: Club Specs & Booking). There are speakers that line the front of the stage as well as high, mounted speakers on the pillars adjacent to the stage. 
At the back of room also facing the stage, but almost as if in a separate space, is the bar and a small counter where they sell the merchandise of the artist performing that night.
Dance Cave: The Dance Cave is upstairs right above Lee's Palace. It seems smaller because it has lower ceilings. When you walk in, there is a short flight of stairs up to a tiny room which is coat-check on your right, and on the left from the entrance is the Dance Cave. All along the right wall is the bar, and at the end in the corner, some space for storage of other furniture (tables and the like). On the wall opposite the bar there are several cushioned booths, each seating five to six people comfortably. This is only available seating arrangement in the Dance Cave on top of three rickety and awkwardly placed high tables which each have two to three chairs as accompaniment. These three tables split the otherwise empty room about a quarter of the way down, and are placed halfway between the bar and the booths. Next to these high tables is a foosball table.
The sign that greets you upon entering the Dance Cave. Photo by: Alex Hum.
Down at the far end (the furthest wall from the entranceway above where the Lee's Palace stage is) is an elevated platform by just about a foot, which imitates a miniature stage underneath an old proscenium archway. However at the back of this stage space are three more booths like the ones that cling to the other wall, as well as a small elevated room which serves as the DJ booth in the corner. In front of this elevated area is a sectioned off dance floor with different wooden flooring from the rest of the space, similar to the pit in Lee's Palace but larger in area.
Under what is left of the old proscenium arch is this seating area on an elevated platform. Photo by: Alex Hum. 
History:
Chronology:
1918 – 529 Bloor Street West was a place for shoemaking and shoe repairs
(1918, Toronto Streets Directory, 114)
1919 – The Allen's Bloor Theatre was built
(1919 Vol. 1, Toronto Streets Directory, 166)
1923 – The Allen's theatres were bought out by Famous Players
(Veillette, "Allen's Bloor Theatre")  
1952 – The Bloor Theatre was renovated, likely to make room for widescreen film
(Eric. Personal interview)
1957 – The Bloor Theatre was shut down and closed
(1957 Vol. 3, Toronto Streets Directory, 85)
1958 – 529 Bloor Street West is listed as vacant
(1958 Vol. 3, Toronto Streets Directory, 88)
1967 – The address becomes home to the Blue Orchid
(1967 Vol. 2, Toronto Streets Directory, 87)
1976 – Oriental Palace replaces the Blue Orchid
(1976 Vol 2., Toronto Streets Directory, 92)
1983 – Oriental Palace is still standing
(1983 Vol. 2, Toronto Streets Directory, 94)
1984 – This record is missing from the Toronto Streets Directory
1985/6 – 529 Bloor Street is home to Lee's Palace
(1985/6, Toronto Streets Directory, 106)
2013 – Lee's Palace stands as we know it today
Allen's Bloor Theatre (1919 – 1957):
The exterior of the Allen's Bloor Theatre in 1921. Reproduced from The Toronto Dreams Project.
The Allen's Bloor Theatre was a silent movie theatre built in 1919 as one of many theatres in the Allen chain. This chain also built theatres such as the Danforth (now the Danforth Music Hall) and Parkdale. These theatres were all designed by Detroit-based architect, Howard C. Crane. Because of issues of space, the Bloor Theatre had a significantly smaller maximum capacity of 782 seats, including the balconies, as compared to the other Allen theatres which all boasted 1,500, making the Bloor Theatre the smallest of them all. The first film that was screened here was Don't Change Your Wife on 10 March, 1919 (Veillette).
In an interview with Eric, a journalist specializing in culture and cinema in Toronto, he details some of the major events in the Bloor Theatre's timeline. The first major renovations to the building were made in 1928 to make room for a new orchestra pit. At this time, sound was becoming popular accompaniment for film and an infrastructure for music became necessary in cinemas. The next set of changes to the building were made in 1952 when the screen was enlarged in response to widescreen film that were becoming a trend.  The theatre closed on February 27, 1957 (Eric), which is confirmed in the Toronto Streets Directory.
The proscenium arch of the Allen's Bloor Theatre's interior in 1919. Reproduced from the Toronto Dreams Project.
Eric also notes that at an earlier time, the Bloor Theatre could be considered a mixed media venue, as there were sometimes live performances as well. These performances would take place in front of the screen, which was pushed further back under the proscenium arch, leaving some space available for artists to perform on the platform. There were also balconies where you would be able to smoke while you watch the movie (Eric).
The website says the building used to be a bank, but there is no evidence of this given the information from the Toronto Street Directory, as well as Silent Toronto and The Toronto Dreams project, which document the history of the theatre, which have not found any sources that can verify that information.
The Blue Orchid (1967 – 1976):
Ten years after the Bloor Theatre closed down, it was replaced by The Blue Orchid. The venue was opened and owned by Ed Silverberg, who bought out the space for $129,000 and paid another $250,000 to convert it into a cabaret. Silverberg was heavily influenced by his fondness of the Jewel Box Revue, the then-leading drag show from New York. Silverberg planned to put on plays and burlesque shows to create a theatre-restaurant which would feature dramas and musicals with all-male casts. Silverberg intended to have the men cross-dress as women for the performances. "There'll be men so gorgeous they'll be better than women. There'll be a sellout every night," said Silverberg (Kirby, "A non-swinger's cabaret toy", 1969).
The Blue Orchid would struggle to find its rhythm and identity early on, and the rock music and go-go dancers were not particularly suitable for the less rowdy dinner audience (predominantly made of adults 25-years-old and older). Though it still kept some of the performative aspects of burlesque, they changed the style of music to one that was more sophisticated and could be better appreciated by their mature audience. They hired singers such as Brian Crabb, who was likeable and had a smooth, soothing voice for ballads which the audience enjoyed more. Crabb also told jokes and connected to the audience during performances. There were also other guest performers and supporting acts that would often function on short contracts, staying with the venue for several weeks at a time before moving on (Kirby, "Amiability main asset at The Blue Orchid", 1970).
As part of the renovation, Silverberg also removed the old balconies from the days of the Bloor Theatre and built a solid second floor which he turned into a speakeasy (Kirby, "A non-swinger's cabaret toy", 1969). This second floor is now home of the Dance Cave.
Lee's Palace & The Dance Cave (1985 – present):
Compare this to the earlier photo of the Bloor Theatre from 1921. Photo by: Alex Hum.
Although in the Toronto Street Directory there is no record for 1984 that can confirm that 529 Bloor Street West was Oriental Palace or had changed to Lee's Palace either way, the Lee's Palace website says it was opened in 1985, and the address was certainly listed as such in the 1985/6 Toronto Street Directory (Lee's Palace: History). I am inclined to believe that the Oriental Palace which was there between the closing of The Blue Orchid and the opening of Lee's Palace was a similar venue to Lee's given the similar name, and the connection between "oriental" and the Chinese name Lee. It seems to make sense that this would perhaps be a name change and rebranding of a previously established venue. This is supported by a quote from an old Toronto Star article by Jennie Punter in 1995 (appearing below) that describes renovations Mr. Lee made to the venue when he took over Lee's Palace, which suggests that perhaps before a change of ownership, the venue still existed in the same capacity before the renovations took place. However I could not find evidence that confirms this hypothesis definitively.
When Lee's Palace first opened, the first two acts were Handsome Ned and Blue Rodeo, and since then, has come to be an important part of the fabric of Toronto's music scene. Lee's Palace housed the first Toronto appearances of Nirvana, Blur, Oasis, and the Smashing Pumpkins (Bunch). But besides big names like these, the venue also supports local Toronto and Canadian artists, giving them a space to perform and make a name for themselves. "Although scores of the world's top alternative bands have played Lee's Palace, the local scene has always been the lifeblood of the grungy but comfy venue. Countless acts made the leap from the basement to the stage at Lee's; for countless more, the club was a temporary home to build a following" (Punter, "Lee's thrives on nurturing local acts", 1995).
In August 2001, Le Tigre, a feminist electro punk band from New York performed a sold-out concert at Lee's Palace. Le Tigre plays political punk and riot-girl rock, and addresses political issues in their music, using it as a form of social criticism and self-reflection (Wilson, "Le Tigre on the prowl", 2001). Shortly after Le Tigre, the Vancouver-based The New Pornographers also played for a packed crowd that was dancing, jumping, and singing with the band. The band drew on "sixties pop, arena rock, punk, and futurist New Wave" to create an entirely original sound distinct from any of those genres (Wilson, "Rock doesn't get much better than this", 2001).
At the end of 2003, The Joel Plaskett Emergency played at Lee's Palace. Lee's was overflowing with enthusiasm in support of the band from Halifax, which at the time was touring the country. This band was described to have had an alternative vibe that is made from a fusion of different styles. They played with a "quirky, unpredictable guitar-based pop-rock that mixed classic sixties/seventies Britpop sensibilities with alt-country flavourings" (Neister, "Truthfully, a star emerges", 2003).
The Sadies played two memorable, crowd-pleasing nights in a row at Lee's Palace in August 2006. The Sadies alternative style was described as hippie-rock and alt-country, but played with versatility. The band had several different styles and comfortably changed between them in different songs. The article describes The Sadies as being so good that whatever act that followed them was not worth remembering (Wheeler, "Don't miss the Sadies' set this time", 2006).
Craig Morrison, the general manager in the 90s, tells an anecdote of when Lee's Palace hosted Nirvana's first performance on 16 April, 1990. Morrison is quoted in an article by journalist Punter five years later following the death of Kurt Cobain in 1994, where he says, "I remember Kurt threw some beer bottles off stage, and the audience started doing the same. I remember telling (promoter) Elliott Lefko to get this band the hell out of my club. But I should have been getting autographs!" (Punter, "Lee's thrives on nurturing local acts", 1995). Lee's Palace has a history of supporting smaller artists and giving them opportunity and exposure, some of which, such as Nirvana, go on to become great successes.
In keeping with Lee's Palace's support of smaller artists, the Dance Cave also made a name for itself in the alternative scene, although the club continues to grow and evolve over time. "'It had a huge thing in the '80's, then another resurgence in '93, '94, '95,' says Lyn McNeill, who has worked at the Dance Cave and its downstairs sister venue Lee's Palace for 11 years … It was Toronto's first alternative dance clubs" ("Exploring the Dance Cave has artistic merit; While it's no longer the city's hot spot, it still boasts dramatic murals", 2001). McNeill also notes that as part of the constantly changing alternative music scene, the Dance Cave has had a multiplicity of changing and evolving identities and tastes in music.
This provides a useful segue into the investigation of the social practices in Lee's Palace and the Dance Cave.
Socio-auditory analysis:
I will begin my socio-auditory analysis with my observations on the physical arrangement of both spaces before moving on to my findings about the social relationships and behaviours that manifest in these spaces, which largely rely on interviews with people who frequent those spaces on top of my own limited experience of the venues.
Notice the stage at the front is the centre of attention. Photo by: Alex Hum.
In Lee's Palace, the few tables and little available seating means that the room is designed primarily for a standing audience that is conducive to physical mobility. A standing audience means more capacity because more people can fit into the space, but it also allows movement and dancing. Moving and dancing with the music at Lee's Palace is encouraged spatially through the open space and the out-of-the-way furniture that primarily lines the walls to make space in the centre of the room. In this photo, we can see audience members waiting for the music to start, preparing to participate in the performance. As Small describes in his concept of musicking, this is already significant to the concert because the activity of music is not just the performance, but rather all the different elements, including the participating audience in the performative space together in one environment (Small 8). Therefore, the audience is not simply passive, but even before the show starts, are meaningfully contributing to the environment in Lee's Palace. This certainly holds true to the performance reviews that cited the audience's excitement as a mark of success for the performance.
Notice the dance floor, and all the attention directed towards the stage even when nobody is playing. Photo by: Alex Hum.
The dance floor is also a central presence in the middle of the action. Historically we know, from the article that describes the audience of the New Pornographers performance as jumping and dancing with the music, that such social behaviour is encouraged as part of the experience of enjoying the music. Some kinds of rhythm and music create an innate embodied reaction and make people want to move with the music (LaBelle). This is particularly true of dance music which has heavy bass that resonates with people further physically, and manifests itself as dance. Part of this could also be seen as auditory scaffolding, which describes conceptually a way of physically negotiating one's place in a sonic environment through movement. The purpose of this is to physically connect with sound and environment which come together to form a singular experience (LaBelle).
Therefore where the music at Lee's Palace excites the crowd and urges people to jump and dance, we can see the same qualities amplified in the even more spacious Dance Cave, with less furniture and more open room to allow patrons to roam, move, and dance in the space. First of all, the Dance Cave has it's own proper dance floor just like the pit in Lee's Palace. But this dance floor area is much bigger in the Dance Cave. On top of that, even though this wooden flooring does not span all of the Dance Cave, the rest of the wide open space lends itself to becoming an arena for dancing as well.
The music that plays in the Dance Cave also typically has more constant beats, heavier bass, and plays more electronic/techno style DJ sets that are different from the live instrumental sounds of the band performances at Lee's Palace. Therefore, where Lee's Palace creates an environment suited for "feeling the music", the aptly named Dance Cave is focused on producing and encouraging bodily reactions to music through these bass-heavy, constant, rhythmic sounds.
Another way to think of the space is in the way the spaces are designed to control attention. Specifically I am referring to the linear, forward-facing attention encouraged by the spatial design of Lee's Palace versus the non-linear freedom of the Dance Cave.
The speakers and amplifiers in Lee's Palace are all placed at the front of the elevated proscenium arch. The band is lit and the rest of the room is dim. All the furniture even along the walls are facing the performance space (albeit some are at an angle). Minimal furnishing eliminates physical barriers between the performers and their audience. The space of Lee's Palace was purposefully designed for patrons to focus on the performance. This has historically been the intent of the venue. "'One of the other things Mr. Lee did was the renovations inside,' Morrison [then general manager] says. 'He created the tiered setting, with the stage up high, and various levels so you can actually watch the band you paid to see'" (Punter, "Lee's thrives on nurturing local acts", 1995). The band has always meant to be the centre of attention.
At the same time this relationship is not uni-directional. Being a smaller venue means that bands can connect to their audience in a more personal way than would be possible at larger venues where the band is far away and the audience is an undifferentiable mass of people. The band that was playing, The Beatdown, which plays Northern Reggae, was able to address the audience at points throughout the performance, responding to peoples cries from the audience and talking to them casually. This happens in many larger venues too, but this smaller venue seems to allow artists to be more personable, as they at times addressed individuals specifically as opposed to a vague response to a giant mass. In other words, the structure of the performance space allows the artists and the audiences to connect more intimately with each other.
There is no similarly linear attention present in the Dance Cave. The performing artist, the DJ, is elevated over the crowd but is also away in the corner, separated from the crowd in a room with windows. The DJ is physically detached from the people at Dance Cave, which disallows a personal connection to them. This is also true because of the nature of the music and the performance. In Dance Cave, the music is constant and also louder than it is at Lee's Palace to create a fully immersive musical environment. Thus there are no pauses and no ability to connect to the audience on a personal level. At this point I would even like to point out that I am reluctant to call the patrons of Dance Cave an audience, because the musical experience here is less performative and more immersive. They are not watching the DJ as much as the patrons of Lee's are watching and connecting personally to the people that make up the band. Rather, the people at Dance Cave seem to create their own space through the music and dance, one that does not necessarily recognize the DJ as an artist as part of that space, only the music that comes from the speakers which are mounted high throughout the perimeter of the venue. In this way, the Dance Cave has a more delineated (if not circular) structure.
Adam is a historian and also frequent patron of Lee's Palace. He finds that Lee's Palace has been central in developing Toronto's music scene. He believes that the venue has had a rare success because of it's unusually long lifespan, noting that many music venues often come and go quickly. Lee's Palace has experienced longevity due to committed ownership that tries to book good local acts. Adam pairs this with the internationally renowned artists that Lee's occasionally hosts, which also help establish the venue as one with significant weight and gravity as compared to other venues. As a result, Lee's Palace caters to a range of people by playing many different kinds of music, giving it mobility amongst different social and musical groups. Here, Adam touches on the catering to many different subcultures. Hebdige writes that different subcultures are identifiable by different styles, different symbols, and sometimes different political beliefs (Hebdige 63). As different artists and performances will demonstrate such differences in taste and style, it is clear that different genres and artists will appeal to different subcultures or subgroups. Bands like Le Tigre embody this in their feminist political beliefs, which will draw a particular reaction from a particular politically engaged audience that may not be interested in other genres. However where subcultures can also be marked by place, such as the tendency of hip-hop artists to associate with particular streets, Lee's Palace is a venue where several different subcultures can show up at different times to see different shows and use the same space for social gathering.
Adam goes on to say that the management of Lee's has always been excellent, and shown dedication to simply providing space and exposure to the artists they support. This fosters a sense of community, trust, and loyalty in the establishment that is made of good-natured people. Adam also says that Lee's Palace is also standing partially from good fortune and good landlords who are not trying to siphon more money than the venue can handle, allowing the local music scene to stay alive (Adam).
Tim was sitting at the end of one of the long counters by himself sipping on a beer when I found him. He's an older man with greyed hair, a bit of white scruff for a beard, and a big smile that accompanies a firm, welcoming handshake. Tim (after his third beer) is friendly and pleasant to talk to. He was enthusiastic about my project when I described it to him. He echoes the same appreciations for the venue as Adam. Tim has been coming to Lee's Palace since he moved to Toronto in the 1980s – this means that he has been a regular at Lee's Palace more or less since it's opened up until now. "I like to come here, have a beer and enjoy really good music," he says, taking a sip from his bottle. Tim tells me that all kinds of bands and genres of music are performed here, and though he isn't interested in all of them, he says the community is diverse and changes from night to night depending on who is playing. This idea touches again on the idea of Lee's Palace being available to several different subcultures and social groups.
 Tim says that his attendance largely depends on the artist. He looks for the performances of bands that he already enjoys listening to, as opposed to showing up randomly to check out whoever might be playing. But he has a habit of downloading new music and looking towards Lee's Palace first for possible performances by the new artists he discovers. He hopes that Lee's continues to book more acts for him (note the personal connection he feels he has to the venue here) because he prefers live music to recordings, and depends on small venues like Lee's to feed that passion. This relates back to the previously discussed dedication of Lee's Palace to providing new artists with exposure. Tim trusts Lee's Palace to bring up such acts as his go-to venue of choice. Because of the size of the venue, Tim feels that he can get closer to the band for a richer musical experience. Part of this he recognizes as the set-up of the room. "There isn't a bad seat in the house. Whenever I come here I know I'm going to get a good view". Tim notes that he lives far away, but for a good band, he is happy to make the hour-long (ish) journey to Lee's Palace, fully prepared with his "swag-bag", a poster bag with a strap. He says he brings it every time he comes down incase the band has nice posters that he is often happy to buy in order to add to his collection of framed posters at home – all from the many shows he has seen at Lee's Palace. Straw has argued for the cultural and social significance of such collections, speaking of records but I believe it is also applicable to memorabilia in this way. Straw writes that men in particular collect such items as a form of knowledge and cultural consumption, demonstrating their value in their connection and knowledge of popular culture as a cultivated image of self (Straw 9).

Although Tim also goes to other small music venues, choosing to boycott large venues since he has discovered his passion for places like Lee's, he says that Lee's Palace is particularly special to him. He is comfortable at Lee's Palace, describing it as a kind of sanctuary for him to get away from his troubles. Here he can immerse himself in the music and the social experience that takes him to a different space mentally, emotionally, and even physically being in this confined, musical space. Here we see music as a form of escapism. Music has the ability to transport or recreate a perceived reality and remove a person from their environment (Hayward, "Subcultures and Scenes"). In this way, music can alleviate people, at least temporarily, of their troubles. Lee's Palace is a safe space for Tim not just because he enjoys the bands he goes to see, but because he finds the crowd to be friendly and approachable as well. Tim tells me with a sorrowful sigh that he usually comes to Lee's Palace alone and does not have a huge circle of friends, largely as a result of his broken marriage. But he perks up when he tells me about the people at Lee's. "The bouncers and the staff are cool. They recognize you and talk to you and tell you to enjoy the show!" He says that he often makes friends and talks to strangers who he gets along with extremely well because they have the music in common. He meets all kinds of people at Lee's Palace, which is something that I noticed as well. In looking for a particular demographic, there was no particular majority of age or gender or visible class. There were both men and women of all ages ranging from 20 to 60, some older men were more dishevelled looking with a "biker-esque" attitude while other women wore expensive trench coats. Given attire, there was a mix of both blue-collar and white-collar workers. "Lee's isn't a pick-up joint. Nobody here is looking for that. They just want to listen to the music and have a good time." Tim appreciates that he can feel like part of the crowd. This to me reflects that the music brings people together and in such a venue, has the potential to eliminate such categorical differences such as age, gender, and class, among patrons.
One thing I did notice though was that the majority of patrons were white, and that amongst the crowd, there were very few minorities. Most everyone was white, there were maybe a couple of black men, and I seem to have been the only  person of Asian descent. It is clear that different genres of music will appeal to people of different races, primarily hip-hop being seen as being grounded in black culture (Forman 67). It is not entirely surprising then that we may see race as one of the divisions of musical subculture and genre. I do not know anything about Northern Reggae other than the performance but given the demographic of the audience, it can be inferred that this genre appeals primarily to Caucasian audiences, which is simply a fact of musical history and inspiration as Forman demonstrates. As Tim notes the importance of the band, this could have been the result of the Northern Reggae which may not appeal to other racial groups. It is difficult to extrapolate whether the racial diversity of Lee's Palace as a whole.
When asked about the Dance Cave, Tim told me that he doesn't really go up there, believing that is often for a much younger crowd.
Tamara, a younger woman, works at the entrance of the Dance Cave. There are bouncers who handle id-checks, she collects cover fees and lets people through into the venue. She notes that the Dance Cave often does appeal to a younger audience, particularly because there is no cover charge for students which is attractive to those paying for university. But she also notes that the demographic is not exclusively students. "Students make up maybe more than 50 per cent, but not much more than that. Maybe a 60-40 ratio." She says that they do often get older patrons. In my experience the people at Dance Cave are younger, usually not being older than 30-35. This may be because of the more up-tempo social behaviour and physicality of Dance Cave which appeals more to younger people, as well as the later hours. Based on the Manilow method introduced by Hirsch, it is understood that different kinds of music will have different embodied effects on people. Therefore, where the smooth, old sounds of Barry Manilow may have deterred young people (Hirsch 344), the clubbing music oppositely attracts young people. To extrapolate further, it is possible to think that such clubbing music also behaves in the same way as the Manilow method in deterring older people from the Dance Cave, which would explain how the music of the venue shapes the demographic. Tamara notes that Lee's opens at 8 to 9, but Dance Cave only opens at 10 and closes later as well. She believes this also plays a role in attracting a younger audience that is more interested in participating in the nightlife offered by Dance Cave rather than just the music at Lee's Palace. Tamara says that she does see people often travelling between the two floors, but less and less as the night gets later. She feels that people become immersed in the Dance Cave later on in the night. "But you can tell when the show downstairs isn't so good. If there are a lot of people showing up to Dance Cave early on then usually that means the show is not great." The movement Tamara describes between the two venues can be considered "energy flow", as introduced by Sterne. The movement of people through spaces creates a flow of energy, and in this case, the energy is being dictated by the music (Sterne 29). For example, when people do not like the music in one space, they move through that space into another. Or at the end of the night when the music stops, people leave that space and retire for the evening, dictating how and when people will come and go from those spaces.
Lonely, rickety tables in the middle of the Dance Cave, and the DJ booth in the corner. Photo by: Alex Hum.
Yuni was at the Dance Cave with her friends when I spoke to her. She's young, in her early 20s. She says that she frequents the Dance Cave a lot. Up until recently, she was going at least once or twice a month. She says this decline has to do with leaving university and it being harder to find time to meet up with her university friends who she used to go with. She says that she prefers Dance Cave over other venues first of all because of it's affordability, being free for students and having cheap drinks, and also because of the music and the social attitude that surrounds it. "There's always a wide selection of alternative music that's never played in mainstream clubs," she says. She likes that she doesn't have to listen to the same music that's overplayed on the radio and in other clubs, and that the alternative music here is refreshing and much better than a lot of mainstream hits. Surrounding this music is an alternative, "hipster and rough-around-the-edges" (as she describes) culture that is accepting and welcoming. "It's easy to come here. There isn't any pretension or snobbishness towards how you dress. I can come here to just let loose without too much primping beforehand." She compares this to the grooming that is expected of other clubs and finds that process tiring. Instead of dressing up for other people, Dance Cave is a place that she can really focus on just herself and join in with a fun crowd. This speaks to the idea of "the vibe" as presented by St John, who writes that in the collective, physical experience of a rave or a dance party, strangers will bond with one another spontaneously through the shared experience that creates an intangible mutuality. The vibe refers to the spirituality of the collective experience where people are connected through rhythm and become a community (St John 38), which appears to be precisely the social experience Yuni is interested in immersing herself in. St John describes the vibe as being shaped by the environment as a whole, including the music, lighting, space, and relationships with other people (38), which would explain why Yuni is particular about the music and the people around her, as these factors together contribute to her whole experience.
She says that her and her friends feel comfortable at Dance Cave also because even though it is "rough-around-the-edges", it is more civilized. "In my experience, the guys here were never disrespectful and respected boundaries. No one comes to Dance Cave to pick up one-night-stands or be picked up. It's a relaxed, genuine atmosphere," she says. This contributes to her feeling familiar with the venue. Dance Cave is a place that Yuni trusts. "Every time I come to Dance Cave, I have a good night." Her admirations echo what Tim says about Lee's Palace, which shows that even though the two venues are separate, they seem to share some of the same values of being able to focus on the self and the entertainment in a comfortable setting.
There is a lot of unoccupied space in the Dance Cave for people to move. Photo by: Alex Hum.
Yuni confirms what Tamara says about the demographic, noting that the majority of the people at Dance Cave are Caucasian, from 19 to 25, but also that recently there has been a growing variety in patrons in both age and ethnicity. She sees a much older crowd on throwback-themed dance nights as opposed to the younger crowd which is more involved in the alternative music scene.
Another girl who was with her friends, Ashlee, says that the first time she went to Dance Cave was in 2011 during her first semester at university. The venue was recommended to her by new friends she made at school. She says that she and her friends, like Yuni, often skip Lee's Palace and go straight to Dance Cave to drink and dance. She went more in her first and second year, but now in her third she has less time. Ashlee likes to go to Dance Cave because the alternative music they play is catchy and is closer to what she prefers to listen to at home. She is already familiar with the alternative music scene and enjoys sharing the musical experience (including dancing) with her friends. She says she mostly notices people who are like her at the Dance Cave, students ranging from 19 to 25 (like Yuni says as well). "Oh, and that guy who always shows up in his striped pajamas."
Ashlee is comfortable talking to the people around her and often makes friends with strangers. This in another instance where the social values of the Dance Cave seem to align with the social values of Lee's Palace. With a focus on the music, the experience allows people to connect to one another in a safe environment, bringing people together. This reiterates the importance of the vibe as part of the fully immersive social experience, as her experience is similar to Yuni's and in some ways, Tim's as well. As Cohen writes on her ethnographic study of the Jewish community in Liverpool, she finds that music plays an enormous part in social identification, relating to other people with similar backgrounds and tastes and also differentiating from other people who do not share those qualities (Cohen 273). In this it is clear that sharing in a musical experience can create communities and bring people together. Although Cohen's discussion relates to inter-generational relationships in the Jewish community (271), the principles are still applicable to the community at Dance Cave, and for that matter, Lee's Palace. In the same way that Jack (the subject of Cohen's ethnographic study) identifies himself and culturally similar people through music is the same way that the people in these venues immediately share a cultural commonality in the music they enjoy. Thus music can foster communities not only identifying particular racial and class-based social distinctions, but also crossing over and succeeding those distinctions in such communal venues.

An interesting subject of discussion would be whether the setting of Dance Cave, the presence of the vibe that Yuni and Ashlee are so fond of, is temporary or extended. To expand on this question in the context of the course, is Dance Cave simply a temporary social setting that is repeatedly recreated but always a new dance party with different individuals and therefore a different vibe? Or is a venue such as Lee's Palace or Dance Cave rather better interpreted as a space embedded in its past and future, since it is constantly active and constantly changing, making the social music events that take place there part of an evolving continuum such as the British hardcore continuum that is described by Reynolds? I would argue that the two venues separately represent either side of this debate. The interview with Tim and the performance reviews in the newspaper of shows at Lee's Palace demonstrate continuity and customer loyalty that would suggest a following of the evolution of the venue, led by changing ownership and the acts that are booked. Tim's long-standing loyalty shows that people are committed as the venue grows and changes. Though there are different genres, the events of Lee's Palace are interconnected as the communities that are created through music are committed. This is as opposed to the changing vibe of the Dance Cave, shown in the way Yuni and Ashlee have a more fleeting commitment to Dance Cave, their loyalty only lasting a few years. Also, vibe is dependent on the people who are around, and as there appears to be a less consistent following at the Dance Cave as compared to Lee's Palace, it is safe to say that the vibe created at the Dance Cave is constantly being renegotiated from night to night as the crowd and music changes. In other words, each night as the Dance Cave can be seen as mutually exclusive, whereas each performance at Lee's Palace contributes further to its history and its reputation as a venue (St John 38; Reynolds, "The History of Our World: The Hardcore Continuum Debate", 71).
Downstairs earlier that night I had smelled marijuana and seen an older man smoking a joint at Lee's Palace and nobody seemed to be alarmed. I asked Yuni and Ashlee separately if drug-use is the norm at Lee's Palace and Dance Cave. Yuni told me that she has never actually been to Lee's Palace because she is not particularly interested in the bands that perform there. But she has been on MDMA at Dance Cave with her friends "and it was fucking awesome." She said she also often smells marijuana at Dance Cave and that it is not surprising. She says that people don't mind it because they are focused on enjoying themselves and they know that they are among like-minded people in musical taste and in style, and they understand that sometimes drugs will be part of the experience.
Ashlee also believes that drugs are common, and in the Dance Cave, serve the same function as alcohol: social lubrication. She says that people do this to enhance their experience and immerse further into the music, "letting go of themselves," so to speak. It helps people relax and move with the music in an uninhibited way, so that "they don't feel silly dancing and can just jam out," she says. As Reynolds describes in talking about the evolution of hardcore, drugs can be and in many cases are a huge part of musical experience. He writes about how drugs like LSD and crack were reflected in the music in that the music often was designed to entice physical movements and bodily reactions that were complementary to the effects of the drugs (Reynolds, "Hardcore Rave: 1992"). In this case, Yuni's use of MDMA in Dance Cave creates a certain hyperphysical experience of the music at the club. There also appears to be a sense of community around drug use as well as music where patrons share an understanding that drugs may be used in these venues for the explicit purpose of immersing further into the environment.

Key Course Concepts:
Musicking – Small
Embodiment of Music
Escapism
Immersion
Subculture – Hebdige
Auditory Scaffolding – LaBelle
Connoisseurship – Straw
The Manilow method – Hirsch
Race – Forman
Energy Flow – Sterne
The Vibe – St John
The Hardcore Continuum – Reynolds
Community – Cohen
Drugs – Reynolds
Works Cited:
1918, Toronto Streets Directory, 114.
1919 Vol. 1, Toronto Streets Directory, 166.
1957 Vol. 3, Toronto Streets Directory, 85.
1958 Vol. 3, Toronto Streets Directory, 88.
1967 Vol. 2, Toronto Streets Directory, 87.
1976 Vol 2., Toronto Streets Directory, 92.
1983 Vol. 2, Toronto Streets Directory, 94.
1985/6, Toronto Streets Directory, 94.
Adam. Personal interview. 22 Nov. 2013.
Allen's Bloor Theatre. 1921. Photograph. Reproduced from The Toronto Dreams Project. Web. 26 Nov. 2013. <http://2.bp.blogspot.com/-0FWkzUbBgnc/UX9O0D8e6MI/AAAAAAAAG0Y/FkZ5g4vTrjg/s1600/LeesPalace-AllensBloorTheatre-1919-ext.jpg>
Allen's Bloor Theatre Interior. 1919. Photograph. Reproduced from The Toronto Dreams Project. Web. 26 Nov. 2013. <http://2.bp.blogspot.com/-Q0MxiHOrjm4/UX9CulLKU8I/AAAAAAAAG0I/qu_4Cl7auKc/s640/LeesPalace-AllensBloorTheatre-1919.jpg>
Ashlee. Personal interview. 23 Nov. 2013.
Bunch. "Lee's Palace Before It Was Lee's Palace." The Toronto Dreams Project. 2 May 2013. Web. 26 Nov. 2013. <http://torontodreamsproject.blogspot.ca/2013/05/lees-palace-before-it-was-lees-palace.html>.
Cohen, Sara. "Sounding Out The City: Music and the Sensuous Production of Place." The Place of Music, Leyshon, A., Matless, D., and Revill, G. (eds), New York: The Guilford Press, 1998. 269-290.
Eric. Personal interview. 20 Nov. 2013.
"Exploring the Dance Cave has artistic merit; While it's no longer the city's hot spot, it still boasts dramatic murals." Toronto Star. 15 Dec. 2001: J.16. Database: Canadian Newsstand Torstar. Toronto Public Library. 26 Nov. 2013.
Forman, Murray. "Represent: Race, Space and Place in Rap Music." Popular Music Vol. 19 (2000), No. 1, 65-90.
Hayward, Mark. "Subcultures and Scenes." York University, Toronto, ON. 5 November 2013. Lecture.
Hebdige, Dick. "Signifying Practice". Subculture: The Meaning of Style. Routledge: London, 1979.
Hirsch, Lily E. "Weaponizing Classical Music: Crime Prevention and Symbolic Power in the Age of Repetition." Journal of Popular Music Studies, Vol 19, Issue 4, 342-358.
Kirby, Blaik. "A non-swinger's cabaret toy". The Globe and Mail. 01 Nov. 1969: 27. Database: ProQuest Historical Newspapers: The Globe and Mail (1844-2009). Toronto Public Library. 26 Nov. 2013.
Kirby, Blaik. "Amiability main asset at The Blue Orchid". The Globe and Mail. 29 Oct. 1970: 12. Database: ProQuest Historical Newspapers: The Globe and Mail (1844-2009). Toronto Public Library. 26 Nov. 2013.
LaBelle, B. "Pump up the Bass – Rhythm, Cars, and Auditory Scaffolding". Senses & Society, Vol 3: (2008), Issue 2, 187-204.
Lee's Palace: Club Specs & Bookings. Lee's Palace. 28 Oct. 2013. Web. 26 Nov. 2013. <http://www.leespalace.com/club-specs/>.
Lee's Palace: History. Lee's Palace. 28 Oct. 2013. Web. 26 Nov. 2013. <http://www.leespalace.com/history/>.
Niester, Alan. "Truthfully, a star emerges." The Globe and Mail. 22 Nov. 2003: R14. Database: ProQuest Historical Newspapers: The Globe and Mail (1844-2009). Toronto Public Library. 26 Nov. 2013.
Reynolds, Simon. "The History of Our World: The Hardcore Continuum Debate". Dancecult: Journal of Electronic Dance Music Culture, Vol 1: 2 (2010): 69-76. Web. 26 Nov. 2013.
Reynolds, Simon. "The Wire 300: Simon Reynolds on the Hardcore Continuum #1: Hardcore Rave (1992)". The Wire. Feb. 2013. Web. 27 Nov. 2013. <http://thewire.co.uk/in-writing/essays/the-wire-300_simon-reynolds-on-the-hardcore-continuum_1_hardcore-rave_1992_>. 
Punter, Jennie. "Lee's thrives on nurturing local acts". Toronto Star. 14 Sep. 1995: H. 10. Database: Canadian Newsstand Torstar. Toronto Public Library. 26 Nov. 2013.
Small, C. "Prelude". Musicking. Wesleyan University Press: (1998). 1-18. Web. 26 Nov. 2013.
St John, Graham. "Neotrance and the Psychedelic Festival." Dancecult: Journal of Electronic Dance Music Culture, Vol 1: 1 (2009), 35-64. Web. 26 Nov. 2013
Sterne, Jonathan. "Sounds like the Mall of America: Programmed Music and the Architectonics of Commercial Space". Ethnomusicology Vol. 41, No. 1 (Winter, 1997), 22-50.
Straw, W. "Sizing Up Record Collections: Gender and Connoisseurship in Rock Culture". 3-16.
Tamara. Personal interview. 23 Nov. 2013.
Tim. Personal interview. 23 Nov. 2013.
Veillette. "Allen's Bloor Theatre". Silent Toronto. 2011. Web. 26 Nov. 2013. <http://silenttoronto.com/?p=2323>.
Wheeler, Brad. "Don't miss the Sadies' set this time." The Globe and Mail. 11 Aug. 2006: R23. Database: ProQuest Historical Newspapers: The Globe and Mail (1844-2009). Toronto Public Library. 26 Nov. 2013.
Wilson, Carl. "Le Tigre on the prowl." The Globe and Mail. 23 Aug. 2001: R5. Database: ProQuest Historical Newspapers: The Globe and Mail (1844-2009). Toronto Public Library. 26 Nov. 2013.
Wilson, Carl. "Rock doesn't get much better than this." The Globe and Mail. 19 Nov. 2001: R5. Database: ProQuest Historical Newspapers: The Globe and Mail (1844-2009). Toronto Public Library. 26 Nov. 2013.
Yuni. Personal interview. 23 Nov. 2013.