Description
Nineteen on the Park, according to their website, is a multipurpose venue located in the core of downtown Stouffville. It supports a variety of acts – from theatrical performances to community sponsored events – to encourage a sense of community within the Stouffville district. The broad range of acts promoted through the venue supports the new construction developments occurring around the downtown core and seeing as Nineteen on the Park was built for the community, it is the venue that bring these groups (old Stouffville residents and new Stouffville residents) together through entertainment. One of the ways in which it does this is through their engagement within local community advocacy groups which support the sports, business, community and cultural groups within Stouffville to help sustain a sense of communal solidarity throughout the district.
Historical Overview
Opening on May 9, 2009, Nineteen on the Park has gone through many structural and conceptual changes since its formation in 1896. It was first constructed with a market on the first floor and a concert hall on the second floor (Lebovic Centre for Arts and Entertainment – 19 on the Park). Also present on the second floor was a small section for a library (McIntyre). Twenty-seven years later, in 1923, a man named Sydney Schmidt converted the second floor into a silent film cinema and the main floor into a garage.  This main floor area was subsequently changed into a bowling alley and billiary parlour thus securing the centre as a space for entertainment (Lebovic Centre for Arts and Entertainment – 19 on the Park). Mr. Schmidt had also decided to change the name of the building to the Stanley Theatre (see picture below) in honour of his son of the same name  (Lebovic Centre for Arts and Entertainment – 19 on the Park). 
In 1949 the theatre's name was changed to the National Theatre Services (Lebovic Centre for Arts and Entertainment – 19 on the Park). The theatre eventually transformed into municipal offices for the Village of Stouffville in 1959 thus no longer providing a space for arts and entertainment in Whitchurch-Stouffville. This continued in 1971 when the offices were renovated for the newly-formed municipality of the Town of Whitchurch-Stouffville. This occupation lasted until the year 1998 (Lebovic Centre for Arts and Entertainment – 19 on the Park).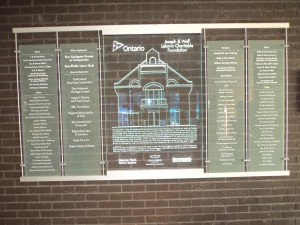 It was not until 2006 when plans were put in place to restore and renovate the abandoned building into a multifaceted arts, culture and entertainment centre (Lebovic Centre for Arts and Entertainment – 19 on the Park). These plans were discussed by the Town of Whitchurch-Stouffville and put into practice in the years 2007 to 2008. The project costed $3.7 million dollars, acquired from the town's programs, funding and grants, and subsequently the building has now been given a new face and interior design. (Lebovic Centre for Arts and Entertainment – 19 on the Park).
The venue received the named  the "Lebovic Centre for Arts and Entertainment – 19 on the Park" when Joe Lebovic made a proposal to donate $500,000 dollars to the renovation of the building in exchange for naming rights. Mr. Lebovic, a long-time supporter of the arts culture in Stouffville, was granted the naming rights proposal and named the building  the Lebovic Centre for Arts and Entertainment -19 on the Park ("Newmarket Era" News) – The "19"referring to the building's location on 19 Civic Avenue and the "Park" referring to its connection to Memorial Park, a local park in Stouffville ("Newmarket Era", News). 
Since officially opening in May 2009 the building's facilities is used for a multitude of events including concerts, theatrical productions, weddings and town hall meetings and is enjoyed  by heritage experts, nostalgic residents and the arts community of Whitchurch-Stouffville alike (McIntyre). 
 Site Analysis 
Due to its popular location in the downtown core of Stouffville, Nineteen on the Park is used as the town's landmark. "Every newcomer to the town would know who we are because of this building" states Linda one of my interviewees. Its central figure, the clock tower, towers above every building so that one is aware of the location and is able to visually locate it. As one walks through the pathway towards the doors an immediate sense of history overwhelms the senses as one is able to visually map the building into a specific time period. This is way that the entire downtown core of Stouffville is structured and Nineteen on the Park is no exception. 
Over recent years, Stouffville has been reconstructing its environment to accomodate a larger population growth through the construction of new housing developments.  This has caused some conflict for town residents seeing as the municipal government is attempting to mesh old town developments with newer ones. However, in order to incorporate the old with the new, landscape changes must also be made. 
These landscape changes include the intent to construct a seven-storey- eighty-six-residential-condo- commercial-space-on-the-ground-floor building with 120 parking spaces underground and eight surface parking spaces (Bolan,"Stouffville Council Approves"). General complaints about the new building include:  [the building] is too big for that corner; it will add to the already congested intersection of Main and Lloyd; it does not fit in with the character of the neighbourhood and; the pedestrian lifestyle developers claim what its residents will have, is a fallacy (Bolan, "Stouffville Council Approves" ). The section of the complaints I would like to focus on the "character of the neighbourhood" aspect.
The culture and scene of Stouffville is always influx thus it will not remain stagnant in time (Straw 374). This is a concept that some Stouffville residents, including my interviewee Linda, are not in favour of. Throughout my interview with Linda she had remarked that the "town pays no attention to what the residents want" and that "[the building] is a horrible idea because it simply looks ugly". Thus, one would assume that Linda's main problem is the aesthetic value of the town however Linda seemed less concerned about aesthetics when she went on to say that she was not in agreement with the "construction noise that comes along with it. It is awful". Noticing that Linda remarked on the inevitable noise pollution that is bound to present for a few months I decided to ask Linda to expand on her knowledge of noise pollution. She had said that "Stouffville had enough construction going on" and that "noise is annoying".
This was an interesting quote by Linda seeing as composer Raymond Murray Shaefer suggests that noise is only an out of rhythm collection of sounds that in essence could be considered to be music (Kelman 218). After suggesting this point to Linda she was not well receptive of it because she does not consider anything that goes "bang bang and clang clang" to be anything noteworthy in the discipline of music.  
I then asked her if it was because it ruined the rhythm of her day and she responded "yes, you can't relax when that is going on". It is at this point that it was necessary to ask Linda about the reasons she decided to move to Stouffville. She responded that she is a "small town junky" and that she "deliberately moved outside of Toronto to experience the quiet town of Stouffville". Her reaction to noise lead me to relate her response to  Lilian Radovac's article where she discusses sound policing by the government and its citizens (756-7). Radovac explains that the continuous policing and surveillance of urban city sites in relation to sound have been reconfigured in fear of threats of political and social upheaval (756). Linda and some other local residents are a clear example of a minor social upheaval as she and her fellow Stouffvillian residents are currently in the process of appealing the town's decision.
Continuing with her clear disappointment about the new construction I decided to ask her about how she felt about the new population growth. She had remarked that it was "great" and that she would like to "see more people coming to Stouffville".  Shortly after making that statement she had realized the contradictory nature of said statement so she reconfigured her opinion and settled on the notion that modern buildings simply do not belong in the Stouffville landscape. 
Referencing that conclusive statement I then asked her if she would not have minded a building that looks old on the outside but new on the inside. As she pondered this thought for a few minutes I chose to remind her that that was the same way in which the Nineteen on the Park building was constructed. Linda seemed to approve of this concept as she went on to tell me about the numerous shows she had watched in the building and that it was a true testament to the definition of community. Thus I was able to draw the conclusion that according to Linda, in order to be accepted by the Stouffvillian community a building can look old on the outside and have modern technology on the inside. This was one of the many reasons why Nineteen on the Park has generally warranted good feedback from the community ("Newmarket Era", "19 on Park Packing them in").  
.
The building's structure, as pictured before, has not changed drastically since its Stanley Theatre remake. Yes, there are a few modern touches but the use of red brick and the general layout of the previous building is still in place. Nineteen on the Park, as Linda suggests, is "a true representation of how buildings are supposed to look in downtown Stouffville". Noting the aethetic value within the community, I found it hard pressed to believe that the venue would have received as much attention had it not been for its relation to both the old and new Stouffville.
Steve, one of the people involved with the buildings renovation, echoed these sentiments as he stated that the venue was" built to be a focal point in the downtown area". Thus, it could be assumed that keeping the old aesthetical look on the outside assists in the marketing of the building. Steve then went on to say that the new Walmart and Hoover park area was bringing in more residents to Stouffville so having a landmark such as Nineteen on the Park would help bring in more acts to perform.
Duly noting that Steve was clearly well informed of the practices of the theatre I had asked him how music played a role in establishing the lived experience at Nineteen on the Park. He had responded that due to the events multifaceted use they play music based on the theme of the performers. So "if there was a jazz performer we would play jazz music to establish an ambience". This statement echoes Jonathan Sterne's argument about the presence of background music. Background music has minor psychological effects on consumers who are shopping thus by using music in the background an instituion is able to control a crowd's emotions and movement within a building (30) which is what Steve means by establishing an ambience. Steve and his colleagues use music to get the crowd in the mood of a certain theme in order for the audience to have a higher probability of enjoying the performance.
After hearing Steve's comment I had noticed that there was no music playing in that current momemt in the building. Unable to receive further details from Steve about this idiosyncrasy, I decided to ask a local resident Karen about her experience of music within the building. She had said that music "does not normally play when there is no show going on. So the building is actually very quiet when not in operation." From Karen's statements I was able to deduce that the venue abides by "noise etiquette" (Bijsterveld 175) principles in which it operates mostly in silence unless hosting an event therefore not producing any noise pollution in the area. This allows the building to remain in favour with the community seeing as it only creates noise after providing fair warning of when an event will take place. 
The Structure of the Building
Inside Nineteen on the Park there is a very modern feel, thus the feeling of transitioning from the past to the present is definitely an experience that the building could potentially evoke in its customers. Karen has felt this said experience as she notes that the building has a "very small town feel to it". It is also important to note that one could visually observe Karen embodying her experience as she recounted her memories of the building thus making her living proof that music is something that people do (Small 2).
Karen was one of the residents who lived in Stouffville during the Stanley Theatre era and then moved away only to return in 2008 at the grand opening of Nineteen on the Park. She remembers that she used to "throughly enjoy the shows that were put on at Stanleys". She said that it was kind of a way to "support the local community and enjoy time with [her] friends". What Karen is expressing here is Sara Cohen's theory that music is a means through which community is "established, maintained, and transformed" (276). She also related to the ways in which music is used as a means for material and economic support within a community (276).
So music at Stanley Theatre for Karen was more than spectacle it was an experience. Cohen notes this phenomenological experience when she states that music "resonates within the body, stimulating movement and emotion" (277) which produces a sense of identity and belonging (277). That concept reigns true seeing as throughout my conversation with Karen, she appeared to have displayed the effects of "musicking" (Small 9) which means that in her willing participation to attend and listen to musical performances she had actively experienced music (Small 9) a sentiment that was also echoed by Linda. Karen believes that because the building has returned to original use that it has aided in helping her to remember all of her memories and allowed to her to re-experience "the intimate feel of it all".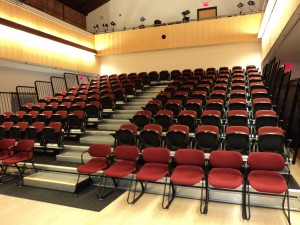 Karen is correct in her judgement of the intimacy of the space. The building was definitely constructed with entertainment in mind. A quick yell inside the building, produced a series of echoes that reverberated throughout the building.  Karen had noted that this acoustical environment made her "afraid to sneeze too loudly" in fear of distracting one of the performers at the show she had watched. This self-policing by Karen is an example of auditory scaffolding, in which Karen has used her body to produce a sonic environment in relation to the space she was in (Labelle). The performance that Karen was referring to was one put on by a famous piano player (the name of which she could not remember) and she remembered having to "sit very quietly" in order not to disturb anyone around her or the performer. 
Nineteen on the Park is quite unique in that aspect in the sense that the setting will always be intimate but the environment is subject to change.  This I believe was an intentional decision made by its creators. Due to Nineteen on the Park being a multifaceted venue having a plain décor and no set theme will only assist in its marketing strategy to different groups of people.
Closing Remarks
According to Linda, Stouffville in general is a "quiet town" thus the construction of this building certainly helped with the "promotion of non-local income". Nineteen on the Park has brought in stars "as big as Jully Black and as small as local theatrical productions all because of its quaint attire and humble beginnings" (Linda). What Linda is referring to here is the lo-fi sound reverberating within the downtown core. These sounds of the town make Stouffville, Stouffville (Kelman 217).  With the newly renovated addition of Nineteen on the Park, little has changed within the soundscape of Whitchurch-Stouffville because "Nineteen on the Park is not a noisy building in general" (Karen). Therefore, Nineteen on the Park, with its old town aesthetics, involvement in community activities and multipurpose use, proves to be a true representation of the Stouffvillian culture.
 Works Cited
19 On The Park – Lebovic Centre for Arts & Entertainment, . Back in the day…. 2012. Photograph. Facebook, Stouffville. Web. 4 Dec 2013. <https://www.facebook.com/photo.php?fbid=495314697158328&set=pb.298980940125039.-2207520000.1386221535.&type=3&theater>. 
"19 on Park packing them in". Newmarket Era [Stouffville] 10 May 2010, News. Web. 4 Dec 2013 < http://www.yorkregion.com/news-story/1437726-19-on-park-packing-them-in>
2013/2014 Professonial Series. Stouffville: Lebovic Centre for Arts and Entertainment – Nineteen on the Park, 2013. Print
"A few words about us". Lebovic Centre for Arts and Entertainment – Nineteen on the Park, n.d. Web. 4 Dec 2013.
Bolan, Sandra. "Stouffville council approves controversial condo complex." Stouffville Sun-Tribune[Stouffville] 24 Sep 2013, News. Web. 4 Dec. 2013. <http://www.yorkregion.com/news-story/4122584-stouffville-council-approves-controversial-condo-complex/>.
Bijsterveld, Karin. "The City of Din: Decibels, Noise and Neighbors in the Netherlands, 1910-1980″, Osiris, 2nd Series, Vol. 18, Science and the City (2003), pp. 173-193.
Cohen, Sara. "Sounding Out the City: Music and the Sensuous Production of Place" from The Place of Music, Leyshon, A., Matless, D., and Revill, G. (eds), New York: The Guilford Press, 1998.
LaBelle, B. "Pump up the Bass – Rhythm, Cars, and Auditory Scaffolding". Senses & Society, Vol 3: (2008), Issue 2, 187-204.
Lebovic Centre for Arts and Entertainment – 19 on the Park. "Nineteen on the Park". May 9, 2008. Plaque. 27 Nov 2013.
"Lebovic offers $500,000 for arts centre name."Newmarket Era [Stouffville] 02 Nov 2008, News. Web. 4 Dec. 2013. <http://www.yorkregion.com/news-story/1469652-lebovic-offers-500-000-for-arts-centre-name/>.
Mason, Jim. What to do with Nineteen on the Park arts centre?. 2008. Photograph. Yorkregion.com, Stouffville. Web. 4 Dec 2013. <http://www.yorkregion.com/news-story/1446742-what-to-do-with-nineteen-on-the-park-arts-centre-/>.
McIntyre, Mary. "Storm Warnings at 19 on the Park."Washburn Island: Memoir Of A Childhood. WordPress.com, 10 Jun 2011. Web. 4 Dec. 2013. <http://maryemcintyre.wordpress.com/2011/06/10/storm-warnings-at-19-on-the-park/>.
Mnkzzz, . Stouffville Memorial Park Pavilion. 2007. Photograph. Panoramio, Stouffville. Web. 4 Dec 2013. <http://www.panoramio.com/photo/2081134>.
Kelman, Ari. "Rethinking the Soundscape: A Critical Genealogy of a Key Term in Sounds Studies", The Senses and Society, Volume 5, Number 2, July 2010 , pp. 212-234(23)
"Politicians erred at Nineteen on Park."Newmarket Era[Stouffville] 17 Jul 2008, News. Web. 4 Dec. 2013. <http://www.yorkregion.com/news-story/1416288-politicians-erred-at-nineteen-on-park/>.
Radovac, Lilian – "The 'War on Noise': Sound and Space in La Guardia's New York", American Quarterly,Vol. 63, No. 3 (2011).
Small, Christopher. "Prelude" from Musicking (Wesleyan University Press, 1998)
Sterne, Jonathan. "Sounds like the Mall of America: Programmed Music and the Architectonics of Commercial Space". Ethnomusicology. Vol. 41, No. 1 (Winter, 1997), pp. 22-50 University of Illinois Press. Print.
Straw, Will. "Systems of Change, Logics of Articulation", Cultural Studies
Town of Whitchurch-Stouffville, . Stouffville council approves controversial condo complex. 2013. Photograph. Yorkregion.com, Stouffville. Web. 4 Dec 2013. <http://www.yorkregion.com/news-story/4122584-stouffville-council-approves-controversial-condo-complex/>.
"What to do with Nineteen on the Park arts centre?." Newmarket Era [Stouffville] 13 Jun 2008, News. Web. 4 Dec. 2013. <http://www.yorkregion.com/news-story/1446742-what-to-do-with-nineteen-on-the-park-arts-centre-/>.