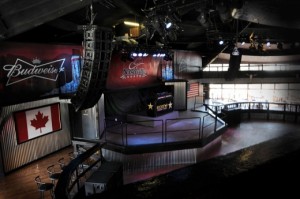 Introduction
This site analysis is conducted to show the ways in which popular music and the
management of sound contribute to the way the space is used and experienced. For the sake of this report, I organized a series of research about Nashville North located on 540 Guelph St, Georgetown (Norval), ON L7G 4v1.  It is known to be a nightclub, country club and party bar depending on which particular night you attend. People ranging from all ages connect with one another on the dance floor to enjoy popular country and top 40 music. Whether they are learning to line-dance on a Wednesday night, drinking with college friends on a Thursday or riding a mechanical bull on Stampede Saturday. Nashville North ensures everyone feels welcome in this casual country style bar.
 To start off, a quote that resonates with me and best describes this analysis,
 "The dance floor should be seen as a monument to community. It is a place where different people can co exist. Music moves people and brings people together" noted in Comn 4729 seminar 2013.
History: Nashville's Roots (1962-present)
Ontario's Fun Spot:
After conversing with a bartender at Nashville North, I was surprised to find out that the building was in fact 52 years old. She particularly said, "Riviera..Club Riviera. Something like that. It was, like, a leisure or recreation centre for old people." To verify this information, an article in The Herald newspaper revealed the building was indeed established in 1961, previously known as The Riviera Club.  Architect John Ma designed Georgetown's first nightclub for its grand opening on January 1st, 1962. (See Figure 1)
However, "for old people" is a misconception, the club was an entertainment and leisure venue for young people as well. In March 1965, Riviera launched its own "Teen Bunny Club" where waitresses would dress up similarly to Playboy Bunnies and serve non-alcoholic drinks and hamburgers to swanky customers (See Figure 2). "In the authentic, night club atmosphere with checked table cloths and candles flickering in the wicker covered wine bottles, the teenagers tried hard to look unimpressed" noted in The Harold Newspaper. "Just give them a decent place of their own where they are expected to act like adults and they will do it" said by owner Emil Zuber in The Harold. The Riviera entertained guests with live acts such as,  rock band Levon & the Hawks and CHUM radio broadcaster Bob MacAdorey (one of the the teenage favourites) to mingle and chat with the dancers. Also, on many occasions, singers, guitarists and accordionist were hired to entertain guests as well. Since the Riviera was a country looking bar, rockabilly and western-style music was usually the main genre. In particular, stag dancing was a popular wester dance among young people because it didn't require girls waiting to be asked and eased the pressure off for boys.
The business also opened a health club in 1970 called the Burgundy Club to provide patrons access to exercise facilities, swimming pool and food (See Figure 3 to see an exclusive Menu).  The Riviera Club was often referred to "Ontario's Fun Spot" because its success durning this time period. 
Figure 1: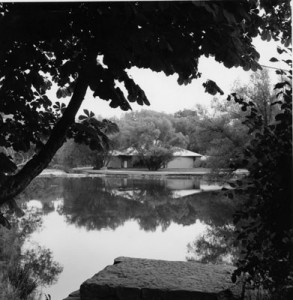 Figure 2: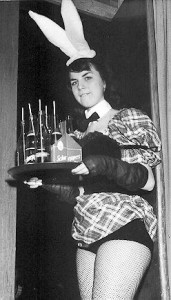 The New Riviera
In the 1980's, The Riviera was a frequent topic within The Herald Newspaper because of its new renovation and competition in the entertainment industry (See Figure 4). It was closed for several months early in 1983 and reopened in October with new management. It was estimated to be the largest institution of its kind in Ontario fitting 750 people. Finished floors, two bars, and one huge stretched bar on the second floor. The venue received particular attention from radio stations such as, CFGM Opry North (a program adopted solely to country music), where several tappings of the show took place, including performances from veteran country musicians twanging out. "The Riviera may have found the key to entertainment longevity in its appeal to a variety of musical tastes" noted by Chris Aagaard Herald Staff Writer.  It was a mix of old big band music and mainstream sounds appealing to different audiences. To name a few entertainers: rock musician David Wilcox, jazz drummer Buddy Rich, country band The Good Brothers, and rock & roll group The Rivieras. (See Figure 5)
Figure 5: 
<iframe width="420″ height="315″ src="//www.youtube.com/embed/9esWG6A6g-k" frameborder="0″ allowfullscreen></iframe>

Nashville North
In the 1990's, the Riviera Club renamed to Nashville North, maintaining its country music roots. However, on December 14, 2004 Nashville's liquor license was revoked by the Alcohol and Gaming Commission of Ontario, due to twenty-eight charges involving over serving alcohol to intoxicated patrons, serving liquor after hours and overcrowding a licensed premise on multiple occasions. Local business were complaining about vandalism, littering and noise pollution. Therefore, the owners decided to closed down the venue and new owners reopened it in 2007 with a different name called West Seven. West Seven signed an agreement to protect residents from noise, vandalism and littering. Also, vowed to be good neighbours by making a commitment to help foster Norval's sense of community with charity events and celebrations. Patrons were thrilled to hear that the nightclub was back in business after several attempts of signing petitions to the AGCO and writing letters to the editor of The Herald Newspaper.
Oddly enough, West Seven renamed the nightclub back to its original name Nashville North  possibly because its name wasn't as well-known as its previous favourable name. All in all, since 1961 to 2013, the establishment continues to be a country nightclub hiding the fact its a Top 40 club on Thursdays.
Site Analysis: A socioculture approach
According to Christopher Small in his book "Musicking: The Meanings of Performing and Listening", whether or not people are active or passively listening, everyone is participating as long as music is present.  He states, "To music is to take part, in any capacity, in a musical performance, whether by performing, by listening, by rehearsing or practicing, by providing material for performance (what is called composing) or by dancing."(pg. 9) In this case, Nashville North's architectural space was originally designed for the sole purpose of musicking. Whether patrons enjoy country music or not, danced or stood outside on the patio, the nightclub achieves its purpose – connecting people with music. The 16,000 square feet building with two levels, fits comfortably 900 people, two year round heated patios and free parking for over 263 vehicles.Without a doubt, architect John Ma's intention was to create this space to encourage social interaction. "The scale of any building, and the attention that is paid to its design and appearance, tells us much about the social importance and status is accorded to what goes on within it." (Small p.20) After conducting a few interviews, I noticed a common response regarding the sense of reunion. Georgetown resident Cristina Almudevar said "It usually is a dramatic or ridiculous night because you interact with people you went to high school with you haven't seen in four years…" Danielle Vukelich frequent client of Nashville North agrees,  "It is an energy filled place with people talking away… Girls running and going around saying Oh My Gosh I have seen you in forever!" Considering the location is a close distance between Brampton, Georgetown and Acton, it is the only nightclub nearby available for locals to reunite with one another.
It goes without saying that Nashville North leads to inquiries of popular music from Mark Hayward's blog post "Questions of Studying Popular Music", such as music as "experience", music as "works", music as "technology" and music as "commodity". Therefore, I will analyze this site paying particular attention to those questions and stressing to answer them with conducted research on historical background, interviews and course concepts. 
Music as "Experience"
Small discusses how "the concert hall is a social construction, like any other building"(p.29).  "Every building, from the tiniest hut to the biggest airport terminal, is designed and built to house some aspect of human behaviour and relationships, and its design reflects its builders' assumptions about that behaviour and those relationships."(p.20) When you first walk through the doors of Nashville North and get passed the strict security, the narrow hallways introduce you to an open concept circular
design. The main appeal is the sunken dance floor with the DJ on an upper level platform. Whether its on a Thursday Top 40 night or line-dancing on a Saturday, finding an empty dance floor is highly improbable. Not to mention, it is a heavily lit area, easier for security to spot destructive behaviour of course, yet easy to see people you are interacting with. After asking Adrianna Prosdocimo what experience she expects when attending Nashville North, she replied; "Everyone is a group of people dancing and it makes it more fun. Rather than dancing in your room, you are with everyone." The space provides music a place for social practices to take place: dancing, smoking outside with friends, or talking while drinking at the bar. Music is either the first thing you actively participate in or passively listen to in the background while socializing. Therefore, music is part of the experience at Nashville North and it would not be the same social experience without it.
Music as "Works": Small town people loving small town music
Country music is known for its story-telling type of lyrics that consists of the instrumentation of fiddles, single guitar, banjos, and dobros with a particular recognizable twang. In John Rowe book "Georgetown: Reflections of a Small Town" discusses the transformation from the Riviera Club to Nashville North. "The swank Riviera Club leads a new life as Nashville North, a name which proclaims western line dancing, but hides the hip hop nights!" (p. 98).  It is ironic how a country style bar with mechanical bulls, horseshoe's hanging on the walls and bartenders dressed up as cowboys and cowgirls entertains with a Top 40/hip-hop night. However, it seems as if Top 40 music is more favourable according to my interviewee's. For instance, former employee Nour Zora said it is relatively more busy on Thursday's and that he prefers to attend Thursday's nights. I asked Adrianna Prosdocimo what music she expects to listen to at Nashville and she responded with; "Something fast beat and popular because you want to be able to sing and dance to it." On the contrary, Danielle Vukelich noted "When I first turned legal, I was the youngest generation so I would go on Thursday's because the music was Top 40. However, since I am older now.. Thursday's are packed with little/younger generation with fake ID's. So, I enjoy saturday because country music has grown on me and the crowd is older." Therefore, genre plays a huge role at Nashville North because genre encourages attendance of different crowds of people. Particularly associating Top 40 with younger people, and country music with a mature crowd.
Furthermore, this open concept architectural design provides music the ability to fill dead space. Even while patrons are outside on the patio, music is at a medium volume in the backround, with a continuous beat of the bass coming from the speakers inside. Nobody dancing, but it is evident seeing people tapping their feet to or bobbing one's head. Brandon Labelle would describes this as a form of auditory latching. In his article "Pump up the bass—rhythm, cars, and auditory scaffolding" he touches upon DeNora stating, "Such instances of auditory latching act to create a kind of looping whereby embodied presence finds security through the percussive…Entrainment thus functions as a means for locating features in the environment that provide security and safety, as well as enabling self-expression, in which embodied presence may find its place."
Music as "Technology"
A unique feature at Nashville North is the three huge big video screens hanging on the walls of the venue. These video screens are used for music videos to be coincided with the songs being played. I asked myself, "What is the purpose of those video screens?" I came to the conclusion that the technology is used to enhance the euphoria experience of clubbing and possibly for the sake of marketing as well. (See Figure 6)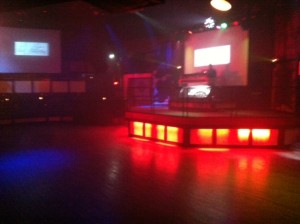 Music as commodity:
"Whether through trade in services (e.g. workshops and therapies) goods (e.g. food, clothing and drugs) or performance (e.g. DJs, VJs sound engineers, décor artists), festivals, clubs and parties within and beyond these zones have become critical hubs for new micro-industries. Becoming sources of income for expatriates and local inhabitants alike, they precipitated tourism and entertainment industries" (St John, p. 53)
In the newspaper article "Musical variety of Norval's new Riviera", Chris Aagaard quoted the general manager Bob Donaldson, "We didn't want to direct all the entertainment into one market. We want to keep a good mix. Bringing back big band music alongside more mainstream sounds isn't as outlandish as it seems." Genres always had a factor in marketing to young adults since the 1980s at the Riviera Club to present day Nashville North.This goes without saying that young people are heavily influenced by mainstream music, therefore its reasonable as to why Nashville North markets their Top 40 nights. Not to mention, the drinks are considerably cheap, as they advertise "Recession $3 Thursdays". Not to mention, the nightclub consists of five bars on the outskirts of the dance floor where the club makes the most of their revenue.  Natasha J. stated in my interview "I never go to Nashville sober. What would be the point of going if you aren't drinking?" Cristina Almudevar also said"The place is full of small town people who don't have much to do, but drink." 
Conclusion:
Overall, my site analysis looked at how popular music is a social phenomenon and how space  needs music and music needs space for consolidation. The continuity of the infrastructure at Nashville North was evidently seen in Top 40 genre dominance, and casual country style. 
                                                                       Works Cited
Almudevar, Cristina. Interview at Nashville North. November 26, 2013 
Georgetown Herald, June 15, 1983, p. 8 (Article) Retrieved online Nov 28.2013
        http://news.haltonhills.halinet.on.ca/2325844/page/8?n=16&q=%5c%22Riviera%20Club%5c%22&docid=OOI.2325844  
Georgetown Herald, March 25, 1965, p. 11 (Article) Retrieved online Nov. 28.2013
       http://news.haltonhills.halinet.on.ca/91785/page/11?n=
Georgetown Herald, Oct. 12, 1983, p. 9 (Article) Retrieved online http://news.haltonhills.halinet.on.ca/2325877/page/9 
Georgetown Herald Letter to editor, Georgetown Herald, Line-dancing and Nashville North, Jan 19, 2007 pg 6 
      http://news.haltonhills.halinet.on.ca/315796/data?n=9 
Georgetown Herald. The Riviera Teen Bunny Club: Carol Fournier. (Image) Retrieved online Nov.15. 2013
      http://images.halinet.on.ca/2628/data?n=1 
Georgetown Herald. The Riviera Club taken from across the River Credit, Norval. (Image) Retrieved online. Nov. 15.2013 
       http://images.halinet.on.ca/1798/data?n=2
NashvilleNorth.ca. Nashville Inside and Out (Image) Retrevied online http://nashvillenorth.ca/web/photo.php?photoid=68 
St John, Graham . "Neotrance and the Psychedelic Festival."Dancecult: Journal of Electronic Dance Culture. 1.2 (2009): 35 –          64. Web. 2 Dec. 2013.
LaBelle, B. "Pump up the Bass – Rhythm, Cars, and Auditory Scaffolding". Senses & Society, Vol 3: (2008), Issue 2, 187-204.
Prosdocimo, Adrianna. Interview at Nashville North. November 26, 2013. 
Small, Christopher. "Prelude" from Musicking (Wesleyan University Press, 1998)
Simon, Reynolds. The Continuum. Wire Magazine.  

 Zora, Nour. Interview at Nashville North. November 26, 2013