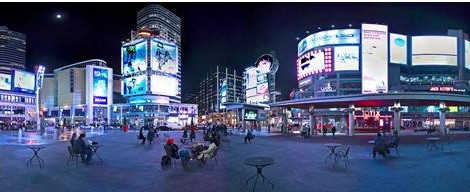 Location: South –East corner of Yonge and Dundas Street
Description
Positioned between one of the busiest intersections in Canada, lies a commercial junction and public square, by the name of Yonge- Dundas Square It offers a vibrant urban experience and as well as, an array of events such as, free live music performances, festivals, promotions, receptions, film events and community celebrations (Yonge-Dundas Square).   As the central point of downtown, Yonge- Dundas Square offers the city a unionization of various cultural backgrounds. From the design of the square to the surroundings, Yonge-Dundas Square promotes a larger urban lifestyle that the city once fell short of (City of Toronto). Within the Square many political activists, preachers and bucket drummers, use the public space for mass demonstrations to protest or to air out personal grievances. Through the use of the space, many cultures and communities have been able to express their different views, which is definitely something that reflects our values as Canadians.   
History of Yonge and Dundas Square
Beginning in the 1960s, the city of Toronto held a Victorian reputation and its major turnaround by the mid-1940s. Upon the return of war veterans were views of sophistication and liberty they had witnessed while dining at the local bars and bistros of Europe and Britain. The city of Toronto needed a change and the loosening of Ontario liquor laws pushed the city's entertainment district into existence. The liquor laws of 1947 permitted cocktail bars which served mixed drinks in addition to providing entertainment in the provinces five largest cities (Parker, 2011).  Thus, giving birth to the presence of the music scene all along the Yonge Street strip.
By the 1960s, the city had embraced other genres of sound such as R&B, blues, rock and many other mixtures (Parker, 2011). The arrival of Ronnie Hawkins and his band is said to have played a part in the rock and roll movement because of his tireless self-promoting at popular venues (McGinnis, 2011). Before his arrival the music scene along the avenue consisted of crooners and country music. Le Coq D'Or Tavern was the original heart and soul of the 1960s music scene, located on 333 Yonge Street it existed nearly a decade prior to Hawkins arrival (Parker, 2011). Hawkins and other groups achieved local fame by performing at venues such as Le Coq D'Or Tavern, Steeles Tavern, the Zanzibar, Blue Note, the Colonial and others (McGinnis, 2011).
By the mid-1970s, the music scene had come to what seemed like an end to make way for disco. The disco scene changed liberalized local laws in which replaced go-go dancers with strippers within a few years (Parker, 2011).  The Zanzibar went from a hot blues club in the 60s to a full strip club. The adult entertainment industry was leaving its mark along the strip with the steady openings of burlesque clubs and body-rub parlors.
 Entering into the new millennium brought on the idea of recreating the feel of the music scene and creating a landmark that was accessible to all. In 1996, the Yonge Street Regeneration Project was brought forth by the Yonge Street Business and Residents Association in addition to the City of Toronto (Flisfeder, 2006, p.3). The Regeneration Project proposed the idea of creating an appealing space to captivate retail and provide entertainment within the City (Flisfeder, 2006, p.3). Yonge and Dundas was selected as the location for the square because it was Toronto's number one visitor destination and was parallel to the Eaton Centre (Yonge-Dundas Square).
In 2002, the public received a sneak preview of the Square's design elements through the spectacle of light and water (Yonge-Dundas Square). Twenty water fountains are programmed to spray at various heights and allow animation designs through its computerized control panel (Yonge-Dundas Square) The Square has a similar vibes as New York Time Square because of its surrounding of large billboards, lit multimedia towers and urbanization.
The venue displays various activities such as concerts, theatrical events, receptions, and promotions-which appeal to both residents and tourists and publicizing local businesses (Yonge-Dundas Square).Yonge and Dundas Square is the venue to engage large masses of people through entertainment and provides a temporary escape from the busyness that is downtown.
Flash mobs at Dundas Square: https://www.youtube.com/watch?v=4hpjxCu4OTE
Site Analysis
Yonge and Dundas Square is best known for its musical atmosphere, where neighbours and tourists go to enjoy live concerts, as well as support local performers. "There is no such thing as music. Music is not a thing at all but an activity, something that people do." (Small, 2) Small came up with a word named "Musicking" which is best described as using music to be a part of an active communication process.
"To music is to take part, in any capacity,in a musical performance, whether by performing, by listening, by rehearsing or practicing, by providing material for performance (what is called composing),or by dancing."(Small, 9). Thus, Small describes music as being a verb, rather than a noun. Yonge and Dundas Square embraces this concept of musicking where, operating from underneath the canopy, 'Toronto Theatre Alliance' has a booth set up for guests to purchase sale of same-day, half-price tickets and advance full-price tickets for theatre, dance, music, and comedy events and performance (Yonge-Dundas Square). As well as, during the evening, three lighting masts which are 18 metres in height are used to provide illuminating effects as well as to provide lighting for large banners and screens (B+SA) within the Square.
Small believes that from the people selling the tickets, to the people that set up the placement of the chairs all contribute to create the bigger picture of the musical performance because they help in the process of creating different experiences within the space (Small, 9). The greatest thing about musicking is that there is no set emotion attached to it. "But you can't have music unless someone is performing" (Small, 9). In addition, the audience usually thinks of music as dictating the kinds of emotions that they have, however it is the process of musicking that fosters these emotions. From the composer to the listener, every time one listens to the same song new meanings are generated depending on the context of which musicking is taking place. Therefore, musicking is a ritual that is explored in Yonge- Dundas, which proclaims and celebrates relationships that pattern connections at a deeper and more complexity than mere verbal languages. "Music is an embodiment… something that is different from everyday life"(Cohen 285).
In Cohen's article Ethnography and Popular Music Studies she states, "Culture has come to be seen less as something 'out there" to be studied, and more as something ' invented' (Cohen, 125) Yonge-Dundas Square allows the community to embrace people, embrace difference, and embrace diversity with the freedom that they represent. The space has succeeded in establishing contemporary urban culture in the heart of Toronto.
The creation of the Square, promotes creative practices through arts and music which has revitalized and regenerated, Yonge Street as a space that needed to be brought back to life (Yonge-Dundas Square Board). Looking at the shape of the space, which is a square, symbolic meanings can be made. For example, I see the square as being four points (two different streets making four different lanes) where different walks of life, metaphorically unite at the square by what is occurring in the Square at the time, and therefore allowing each individual to be seen as equal.
Design
In 1998, the city of Toronto decided to leave the design of the Square to Brown+Story Architects (Yonge-Dundas Square). Using basic geometric shapes and lines, this one-acre outdoor public space promotes a larger urban lifestyle that the city once fell short of (City of Toronto). Yonge-Dundas Square is a large space which plays a role in tapping into an individual's emotional and perceptions of how they feel when they are in the Square. Such openness is inviting and encouraging which is a great importance for a public space. The surface of the Square is covered by large granite slabs and a slight incline used to contribute to the presence of a theatrical stage (B+SA).
The design of the Square allows for public seating and temporary structure for indoor accommodations (B+SA). Depending on the placement of chairs or the use of barricades, the Square can provide seating arrangements that vary between 1,000-12,000 people (Yonge-Dundas Square). To create the feel of an urban environment, a canopy made out of wood and zinc extending from Yonge Street along the Dundas Street, operates as sculptural entrance into the Square (Yonge-Dundas Square). The structuring of this canopy is used to create a link between the Square and the large theatre complex to the north of the Square (B+SA). As stated above, Yonge-Dundas sits on a 1.5 metre incline, which contributes to the rise of a plinth creating a higher level of visibility for guests, while they watch concerts and other events that are going on (Yonge-Dundas Square).
 In the middle of the Square's main walkway, lie two rows of ten computer programmed water fountains, which can shoot water up from one to eight feet in height (Yonge-Dundas Square).
The Yonge-Dundas Square fountains are used for water play, which allow for animation and high visuals and are also bordered with seat edges (B+SA).  During the evening, three lighting masts which are 18 metres in height are used to provide illuminating effects as well as to provide lighting for large banners and screens (B+SA) within the Square.
Music and the arts in the Square enhance the quality of the space where the community can come together to construct a new urban reality. This plays on Cohen's point that, "The consumption and production of music also draws people together and symbolizes their sense of collectivity and place" (Cohen 273). There was a sense of pleasure when the interviewees were speaking about their experiences of the space. When asked about the attractiveness of the square, Interviewer A described the Square as being relatively neat, unless there was a major event such as concert going on, where there was a lot of congestion.
Interviewer B said "I used to come to the Square a lot because I used to work around here, but now I'm here at least once a month. What attracts me to the Square is that, I like the atmosphere, there's a lot to do here in terms of the live music, shopping, everything is one place which is really convenient. The festivals in the summer are really good too".
After Interviwer B had stated that the festivals in the summer were really good, did I realize that, due to the fact that Yonge-Dundas is a public space that is outside, weather plays a major factor in the way a person views and experiences the space. It also contributed to why I found the interviewing process so difficult at the Square because it was cold outside and very empty. Interviwer A stated "I find the Square is more appealing in the summer, because there is so much more to do. In the winter it's a little dry, so I usually just go to the theatre".
 Another observation taken from trying to conduct interviews is that people were very resistant in wanting to participate. Right across the street from Dundas Square is the Eaton's Centre. Before approaching the Square, there are usually people outside the doors of the Eaton's asking if one would like to sponsor a child. This relates to fact that surrounding the Square is not just a space to perform music and art, but is also a place to take a stand in something that a person believes in, in a safe environment.
However, what was taken out of the interviews was that the Square is seen as a meeting place which signifies a sense of community and social networks of territory. The design of the Square is an important attribute as it draws in practices of cultural and social interest which enhance the identity of Yonge-Dundas Square as being a meeting place especially with the youth. This is not to only say that the Square is just a place where people physically meet other individuals, but it is a space where social and cultural trajectories are met. 
With the help of music, the Square has the ability to rejuvenate memories, emotions and perceptions of individual, which eventually creates comfort due to the symbolisms and emotions that it carries.
"The street functions as a place of passage, allowing transport and accessibility; in turn, the street is a complex of actions and exchanges where sound and auditory events are contoured by the structures built from a rhythmic dynamic." (Labelle, 2008)
 This idea of auditory scafling is evoked where the people in crowd taking part in the festivals and concerts are infusing themselves into the music that is being played, thus creating a sense of feeling at home. The symbolisms of the music and emotions that Dundas Square provokes could be associated with identity that a space already has, or with one that the planners wish to develop. The Square makes sure to include all different kinds of musical genres ranging from musical artists like Billy Talent to Ludacris. Some other headliners are K-OS, De La Soul, Ghostface Killah and many more in just 2013 alone. The best part of is that these performances were free and all ages shows (NXNE). With different genres of music, means different kinds of identities where music in the Square, allows people especially the youth, to identify their position better in a public space and therefore giving one the ability to affect one's sense of comfort.
References
"B+SA – Dundas Square." B+SA – Dundas Square. N.p., n.d. Web. 29 Nov. 2013. <http://www.brownandstorey.com/projects/dundassquare/T-projectframes.htm>.
"City of Toronto: Agencies, Boards, Commissions and Corporations (ABCCs), Yonge-Dundas Square Board of Management." http://www.toronto.ca/abcc/sp-yonge-dundas-square.htm (accessed December 4, 2013).
Cohen, S. (1993). Ethnography and popular music studies. "Popular Music 12.2 (1993), 123- 138.
Cohen, S. (1995). Sounding out the City: musiic and the sensuous production of place "Transactions of the Institute of British Geographers" (1995), 434-446.
LaBelle, Brandon. "Pump up the bass–rhythm, cars, and auditory scaffolding." The Senses and Society 3.2 (2008): 187+.Academic OneFile. Web. 4 Dec. 2013.
McGinnis, Rick. "A history of the Yonge Street music scene." blogTO RSS. N.p., 21 Mar. 2011. Web.3 Dec. 2013. <http://www.blogto.com/music/2011/03/a_history_of_the_yonge_street_music_scene/>.
Parker, Alan. "Toronto Landmarks You Probably Don't Know, Part 2." Nosey Parker. N.p., 5 May 2011. Web. 4 Dec. 2013. <http://blogs.canoe.ca/parker/news/toronto-landmarks-you-probably-dont-know-part-2/>.
Small, Christopher. Musicking : The Meanings Of Performing And Listening. Hanover: University Press of New England, 1998. eBook Collection (EBSCOhost). Web.3 Dec. 2013.
"Steele's Tavern | Lost Toronto." Lost Toronto. N.p., 26 Dec. 2010. Web. 2 Dec. 2013. <http://losttoronto2.wordpress.com/tag/steeles-tavern/>.
"The World's Best Photos of neon and zanzibar – Flickr Hive Mind." The World's Best Photos of neon and zanzibar – Flickr Hive Mind. http://flickrhivemind.net/Tags/neon,zanzibar/Interesting (accessed December 4, 2013).
"Yonge-Dundas Square | NXNE." NXNE RSS. http://nxne.com/category/yonge-dundas-square/ (accessed December 3, 2013)
"Yonge-Dundas Square, Toronto Ontario."Young Dundas Square. N.p., n.d. Web. 1 Dec. 2013. <http://www.ydsquare.ca/>.